Biography: Gregory Wiley Edwards
Born: January 17, 1948 - Dayton, Ohio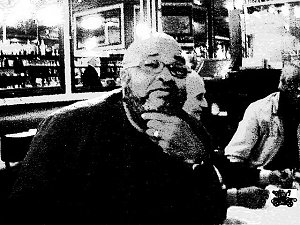 The artist, raised in Houston, Texas, came to California to attend Cal Arts and Art Institute of San Francisco. As a student activist, he distinguished himself as teacher of the Black Artist's Seminar, at California Institute of the Arts in 1972. Early in Mr. Edwards career, Esther Bear, the legendary, Montecito, California art dealer, exhibited his work. The same year (1971), Edwards won 1st Prize in Graphics at The Watts Festival Fine Art Exhibition. Since that time, his paintings, lithographs and drawings have been exhibited nationally in the U.S., from the Contemporary Arts Museum in Houston, to the Daniel Broder Gallery in New York City's Soho. Mr. Edwards was born into an artistic family. He is the younger brother of New York sculptor, Melvin Edwards, who exposed him, as a teenager, to the work of important artists of the day, including, Marvin Harden, John Altoon, Jean Tinguely, Charlie White, Elizabeth Catlett, David Smith, Richard Hunt, Mark di Suvero, Danny Johnson, Sam Gilliam, William T. Williams and Judy Chicago.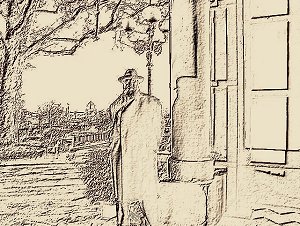 The second-wave Gutai painter, Matsumi Kanemitsu, and Emerson Woelffer, a New York School abstract expressionist - both teachers at Cal Arts, mentored Mr. Edwards. He pioneered Performance Art in the revolutionary "Bodacious Buggerilla" (a Los Angeles based guerrilla theatre troupe, active in the 1960's street theatre scene). He digested the ideas of the Light and Space movement, through his friendship and collaboration with, Larry Bell. Ed Moses (renowned California School of Painting master) initiated a dialogue on abstract painting with Edwards in 1977 that continues to the present moment. Edwards acknowledges a debt of gratitude to Norma Flynn (Los Angeles based, Chouinard trained, painter & watercolorist) , who he maintains, provided him with a "mystic" relationship to Color. Edwards says he is most grateful to Lamidi Olonade Fakeye, Senior Arts Fellow at Obafemi Owolowo University in Ile-Ife, Nigeria, a fifth-generation woodcarver, preeminent among the Yoruba, for his friendship and stewardship of Edwards' investigations into African Art, and the relationship of that art to religion and philosophy in the region. It is your African heritage that underpins your natural inclination to embrace the whole world, Lamidi Fakeye told Edwards.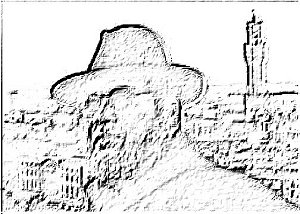 Mr. Edwards has long been known as an arts activist, particularly adept evaluating, strategizing and brainstorming cultural and social policy issues, both in the arts and in the larger community. Edwards got his start in the activism area with community-based organizations in the civil rights era. Most notably, he worked with Booker Griffin and Jim Brown at the Black Economic Union in Los Angeles in 1967. Edwards was a founding Director of Studio Z - a seminal Los Angeles alternative space, famous for performance, concept and traditional visual art forms on the cutting edge. He's served on the Arts Advisory Panel for The Cultural Affairs Commission for The City of Los Angeles, on Advisory and Grants Panels for The California Arts Council and as Liaison between the National Endowment for the Arts and the U. S. Small Business Administration.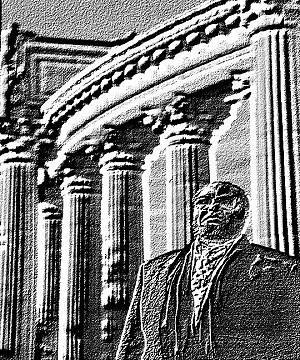 Edwards publishes lithographs at Hamilton Press in Venice, California and mono prints at Smith-Anderson Editions in Palo Alto, California. Edwards makes technical drawings of symbolic and serendipitous materials mined from personal history. The drawings combine traditional glyphic iconography from different cultures with tools and personal effects of living relatives, friends and even those surviving tools used by his family's slave ancestors. He described the gestural, abstract paintings he is now making as "Stroke Ism". Zen painting influences with calligraphic references coupled with African Heiroglyphs within a mysterious tonal space. His latest imagery was inspired by a recent Winter journey to Venice, Italy.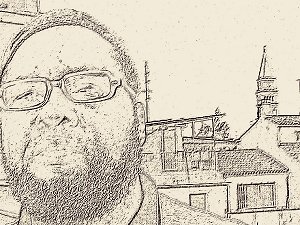 Edwards lived in Los Angeles for 30 years. He now resides in Oakland, California, where he maintains a studio in the Lewis Street Studio Complex. Reflecting his three-decade commitment to social and esthetic activism, Mr. Edwards was named to serve as a Commissioner for the Cultural Affairs Commission of the City of Oakland in 2002. Mr. Edwards last project was the 5th Annual Concorso La Fenice, in Venice, Italy, during the flood season in Fall, 2004. Mr. Edwards currently has drawings on exhibit at Linc Real Art Gallery in San Francisco and paintings installed at Ego Park Gallery in Oakland. Mr. Edwards work is included in a survey exhibition of influential African American artists working in Los Angeles from 1945 through 1990 at The Municipal Art Gallery in Barnsdall Park, Hollywood, CA.